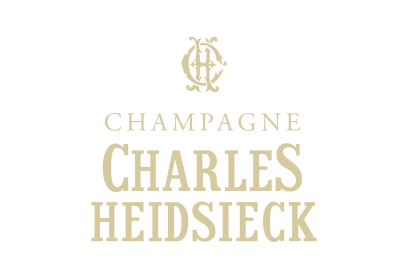 The Champagne house was founded in 1851 by Charles-Camille Heidsieck. THE CHARLES' WINE represents a world of elegance and indulgence and embodies the founder`s personality: emblematic and unique. What makes the uniqueness of Charles Heidsieck style is the duality given by the best of young wines and old reserve wines. They bring together the best of both sides of champagne with the extremely pleasant and refreshing aspect of young champagne, combined with all the power and complexity of mature champagne.
THE STYLE OF Charles Heidsieck IS GENEROUSLY TOASTY, RICH AND EVOLVED. The beautifully balanced and captivatingly complex Brut Réserve cuvée contains a large proportion of reserve wines (40%), representing an average of 10 years of ageing harvested from 60 different cru-s. This high proportion of reserve wines brings aromatic complexity to the champagne but also a silky, creamy texture, extremely fine bubbles, atypical for a non-vintage champagne.
Charles Heidsieck's present-day superlative quality permeates throughout the entire range, from the Brut Reserve to the vintage Blanc de Millénaires. The winemaking philosophy is based on two pillars: long maturation and a significant amount of reserve wines.
.
"Champagne is a product charged with emotions that brings the magic". Cyril Brun, Chef de Cave
Champagnes Charles Heidsieck
Founded on the values of quality, Carastelec Winery is proud to announce its partnership in promoting Champagne houses Taittinger and Charles Heidsieck, in collaboration with Crush Distribution. Through this project, we want to highlight our shared vision around quality, precision and elegance in sparkling winemaking. Our affiliate collaboration will be brought to life through wine tastings and content sharing designed to bring sparkling wine lovers together around conversations, shared experiences and a celebration of the world's most famous bubbles.
Shop online
Charles Heidsieck Champagnes are available on www.crushwineshop.ro
Charles Heidsieck official page: www.charlesheidsieck.com